Esha Saxena
Esha Saxena is a writer and journalist and holds a master's degree in media and mass communication. She firmly believes that makeup is nothing less than art. Combining her love for writing with her … more
Esha Saxena
Diversity is what makes our world come alive and black color is beautiful. It's an undeniable fact that Black women are insanely beautiful with some of the most stunningly captivating features. From Selita Ebanks to Rihanna, these are some of the most glorious black female celebrities. This is a tribute to these very talented and sensational black women in the world of cinema, fashion, music, sports and television who have taken the world by storm.
Let's dive right into the list of these remarkably beautiful black female celebrities.
Most Beautiful Black Female Celebrities
35. Janet Jackson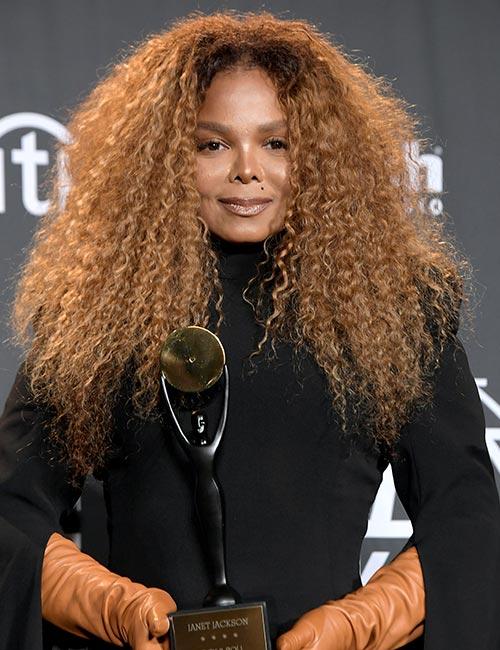 'The baby of the Jackson family of musicians' and over the years 'a multi-platinum selling artist' – Janet Jackson has been a prominent personality in popular culture for over 30 years. The star is known for her innovative and sexually provocative music which is so powerful, even today. Her most popular singles include – "Nasty", "That's The Way Love Goes" and "Together Again" among her other works. The gorgeous singer has won many awards for her music including two Grammy Awards.
34. Gina Torres
Everyone knows Gina Torres from her character as Jessica Pearson on 'Suits' but the stunning actress has been a part of various other TV shows and movies like Hercules: The Legendary Journeys, Xena: Warrior Princess, Cleopatra 2525, Firefly, The Shield, Westworld and many others. She also starred in the feature film 'I Think I Love My Wife' opposite Chris Rock. She has won an ALMA Award for Outstanding Lead Actress in a Syndicated Drama Series.
33. Jada Pinkett Smith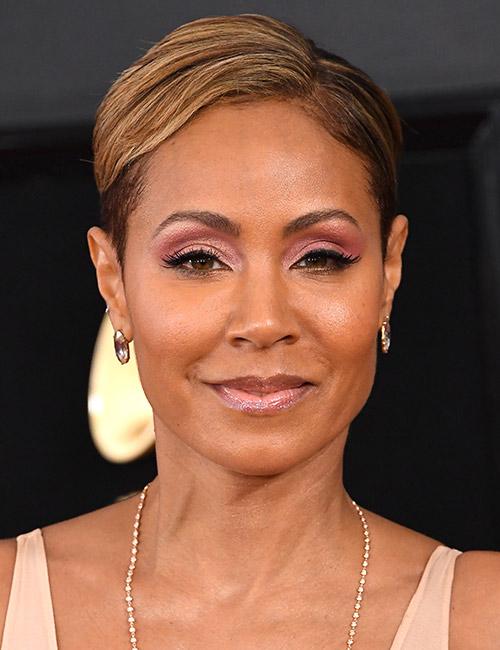 This beauty with her exotic features started off her career in a short-lived sitcom called 'True Colors'. She has starred in over 20 films of different genres, some of which include – 'The Nutty Professor', 'The Matrix Reloaded', 'The Matrix Revolutions' and also the 'Madagascar' series. She's married to Will Smith, and they have two children – Willow and Jaden.
32. Serena Williams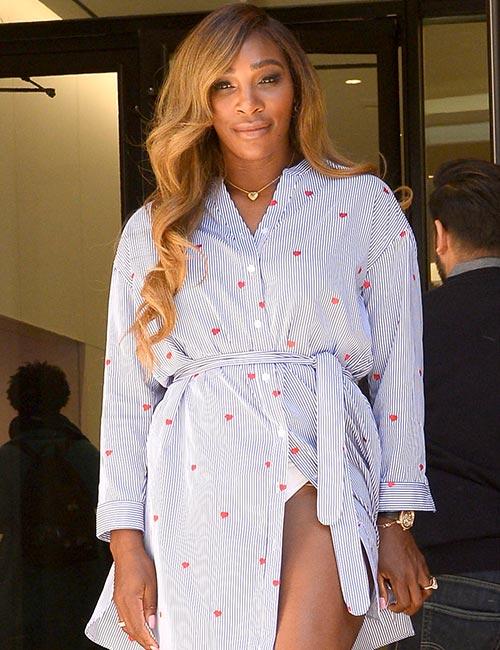 This 'wonder woman'  has been ranked World No. 1 in singles by the 'Women's Tennis Associaton' (WTA) on eight occasions from 2002-2017. Some of the commentators, sports writers, and even players regard her as the greatest tennis player of all time. She has won so many awards for her performance in the sport that it's hard to even keep count. Besides Tennis, she has her own fund that aims to create equality through education and assists victims of senseless violence. The tennis star has struggled with body-shaming and cruel remarks about her body but she does not allow anything to break her and she only keeps climbing the ladder of success, further up. Also, she recently gave birth to a baby girl. Way to go, Serena!
31. Solange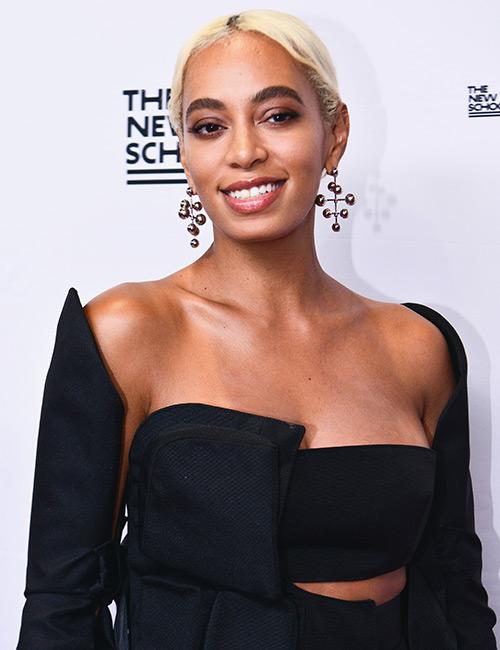 The much-talented Solange Knowles is the younger sister of Beyonce. She expressed interest in music since an early age and was a temporary backup dancer for Destiny's Child. Coming out of her sister's shadow, she released her first studio album at 16 and has created a name for herself. The beautiful singer has won a Grammy Award for best R&B performance this year. She also took home her first trophy from the BET Awards this year.
[ Read: 50 Most Beautiful Women in the World ]
30. Taraji P. Henson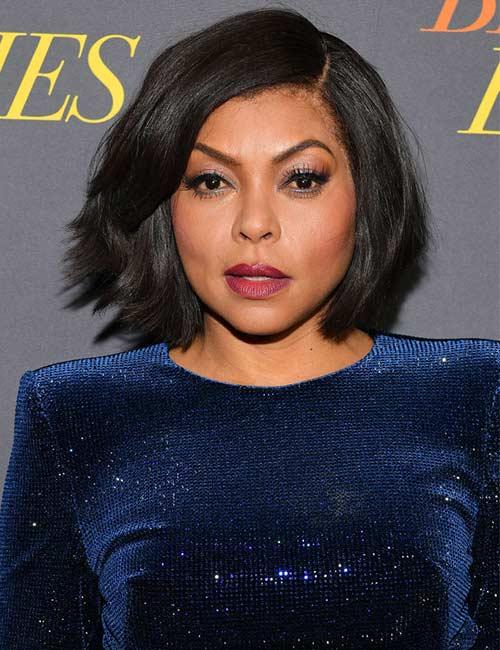 The Academy-Award winning actress was named one of the 100 most influential people in the world on the annual 'Time 100 list' in 2016. Some of her most marvelous performances were seen in the Oscar nominated film 'Hidden Figures', the hit TV series 'Empire' and other films like 'The Curious Case of Benjamin Button' and 'Person of Interest'. She was also voted as one of "The 10 Sexiest Women of 2001" by the readers of 'Black Men' magazine.
29. Viola Davis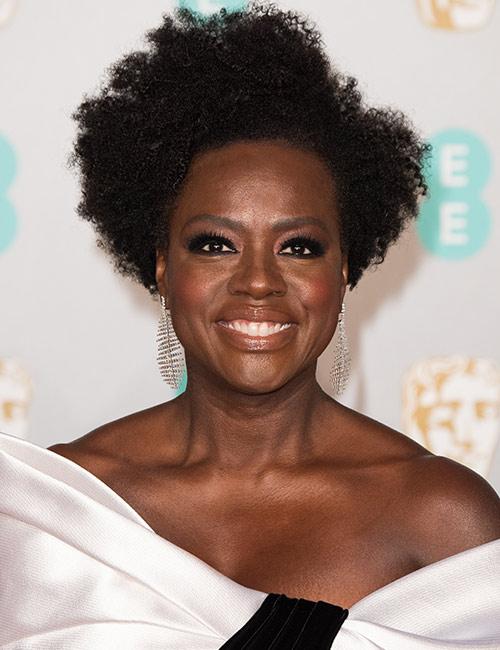 This ingenious actress is the only black woman to be nominated for three Academy Awards, winning one and she is the only black actress to have won the Triple Crown of Acting. She was also listed as one of the 100 most influential people in the world by Time Magazine in 2012 and 2017. Besides her many awards and accomplishments for her acting, she is also the ambassador of 'Hunger Is' which is a charity that aims at fighting childhood hunger.
28. Oprah Winfrey
"Don't worry about becoming successful but work toward being significant and the success will naturally follow" – these are the words of the legendary Oprah Winfrey. She is considered to be the greatest black philanthropist in American history. Hers is the most inspirational tale of rags-to-riches, with her growing up in extreme poverty and enduring endless hardships to becoming one of the richest African-Americans in the world. Oprah was awarded the 'Presidential Medal of Freedom' by Barack Obama and honorary doctorate degrees from Harvard and Duke. Also, her talk-show 'The Oprah Winfrey Show' is the highest-rated television program of its kind in all of History. She's indeed a true inspiration for millions around the globe.
27. Ashleigh Murray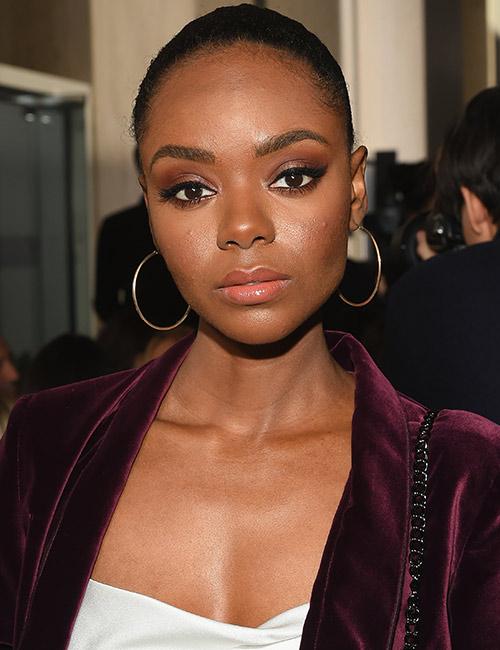 Have you watched the CW telly series 'Riverdale' yet? This beautiful woman plays the character of Josie  McCoy of 'Josie and the Pussycats' on the show, and she also happens to have the voice of an angel. The 29-year-old stunner has also starred in the lead role of the Netflix produced Sundance film 'Deidra and Laney Rob a Train'.
26. Jennifer Hudsdon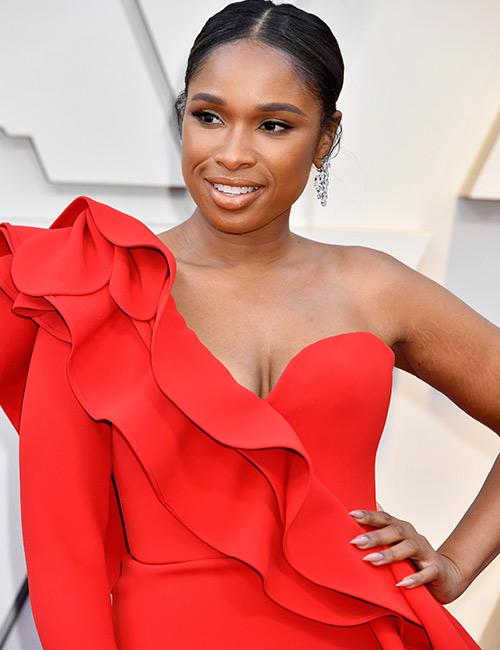 She rose to fame as a finalist on the third season of 'American Idol' in 2004, coming in the seventh position and ever since then, there's no looking back for J-Hud! She has won an Academy Award, a Golden Globe Award, a BAFTA  and also a Screen Actors Guild Award for Best Supporting Actress. She also won a Grammy for Best R&B Album. She is currently a coach on the 2017 series of 'The Voice (U.K).
[ Read: 25 Most Famous Short Female Celebrities ]
25. Laila Ali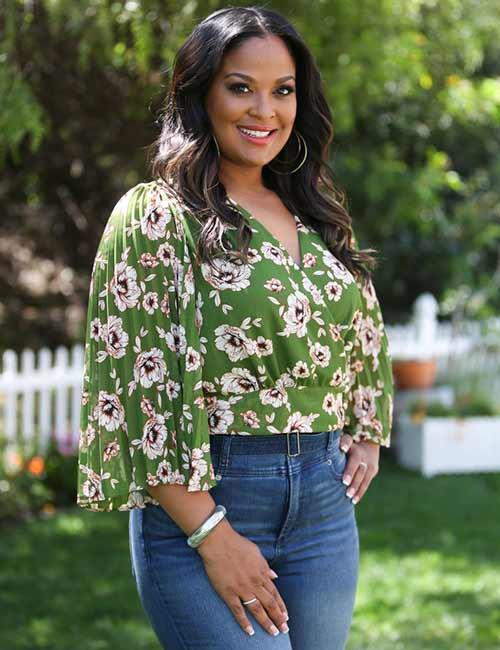 The daughter of legendary boxing champion Muhammad Ali – Laila Ali is a former professional boxer (she has been in the sport from 1999 to 2007). Her father did not want her to pursue the sport due to its dangerous nature, but Laila was unstoppable. During her boxing career, she remained undefeated and has won a number of titles to her name including the Women's Boxing Association's Light Heavyweight title.
24. Arlenis Sosa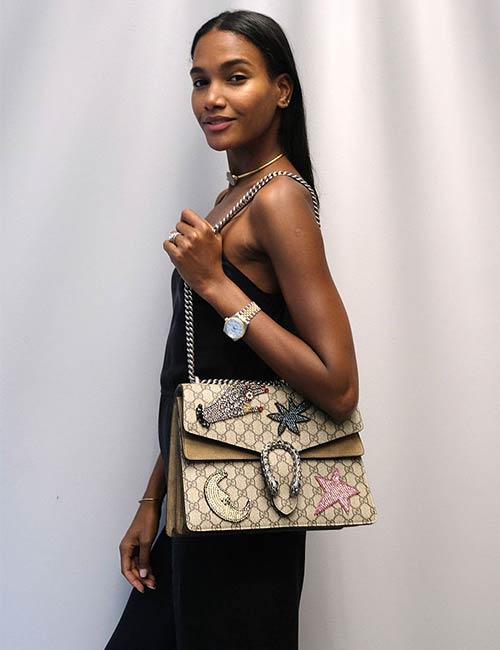 This gorgeousness from Dominican Republic is considered to be one of the most attractive black female celebrities as of 2017.  She is the current spokesmodel for Lancome. She's also widely recognized for her work with Victoria's Secret, Anne Sui, Alexander Wang and Jean Paul Gaultier among others.
23. Eva Marcille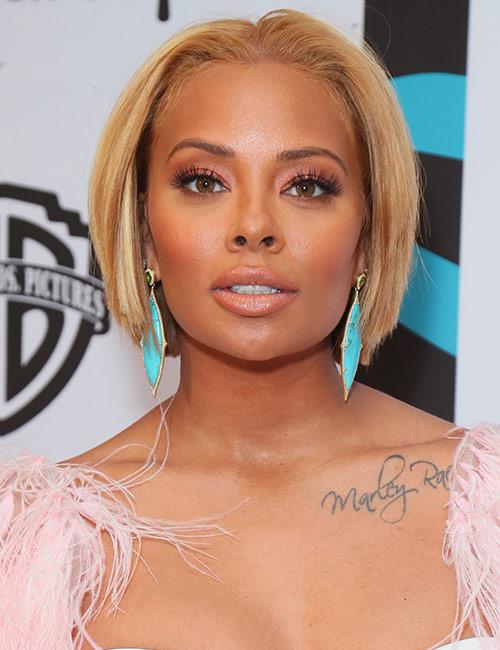 This stunning African-American woman started her career winning the third season of America's Top Model when she was 19. The win launched her modeling career and she appeared on the magazine covers of Cosmopolitan, Women's Health and Fitness and Essence. She has recently played the role of Tyra Hamilton on the soap opera 'The Young and the Restless'. We can't stop marveling at her hourglass shape!
22. Yaya DaCosta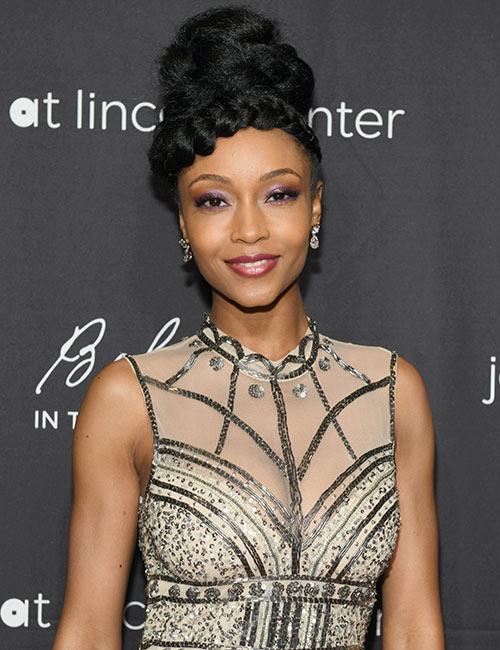 The gorgeous Yaya DaCosta is an African-Brazilian-American model who gained fame by being a runner-up on the third season of America's Top Model. She has starred in 'Chicago Med' which is an NBC medical drama as Nurse April Sexton. The charming actress has also appeared in commercials for Garnier, Sephora, Radioshack and Dr. Scholl's among others. She also played Whitney Houston in her biopic 'Whitney' in 2015.
 21. Aja Naomi King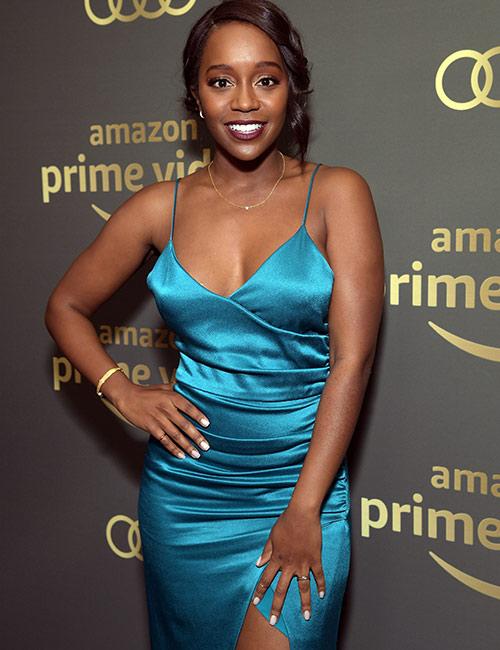 If you haven't watched 'How to Get Away With Murder' yet, now's a good time to check out the show. Aja Naomi King currently plays 'Michaela Pratt' in this engaging ABC legal drama which is her breakthrough role. The sexy starlet is considered to be one of the most promising black actresses in Hollywood at the moment. As a young girl, she wanted to be a doctor but the sight of blood made her feel sick, and she decided to pursue acting. Well, good for us because she's slaying it!
[ Read: 30 Most Beautiful Eyes In The World ]
20. Noemie Lenoir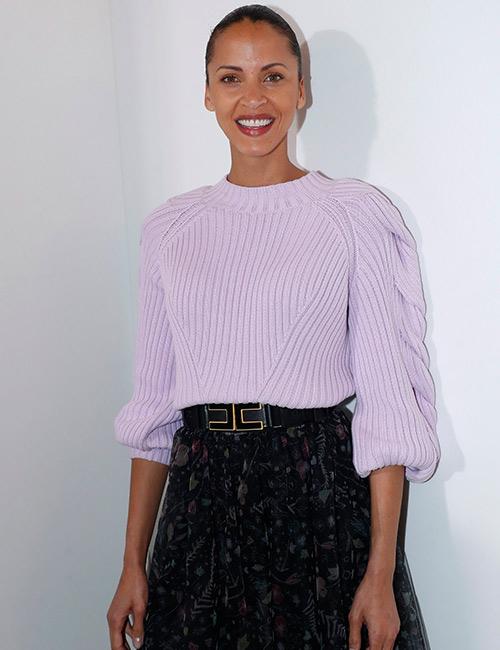 This Goddess who comes from the Ghettos of suburban-Paris has been featured in the list of the world's most successful black models by world renowned photographer Annie Leibovitz. We can't agree more! The French model is recognized for her work with world-famous brands like Gucci, Victoria's Secret, L'Oreal, Marks and Spencer and Gap among others.
19. Selita Ebanks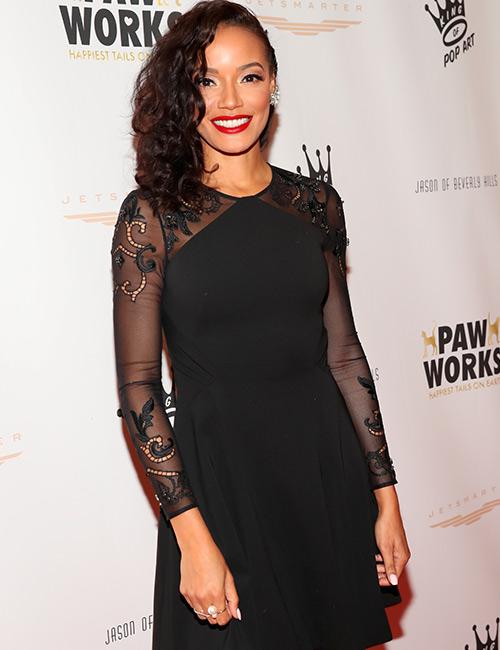 The sensational Selita Ebanks is best known for being a Victoria's Secret Angel from 2005 to 2009. Besides being a smoking hot fashion model, Selita Ebanks has worked for high fashion brands like Ralph Lauren and  Neiman Marcus among others. She has also appeared in magazines like Vogue, Sports Illustrated Swimsuit issue, and Glamour. In 2008, she was ranked the twelfth highest-paid supermodel, making a whopping $2.7 million. She was also ranked No. 4 on the list of '99 Most Desirable Women' by Askmen.com's annual list.
18. Lupita Nyong'o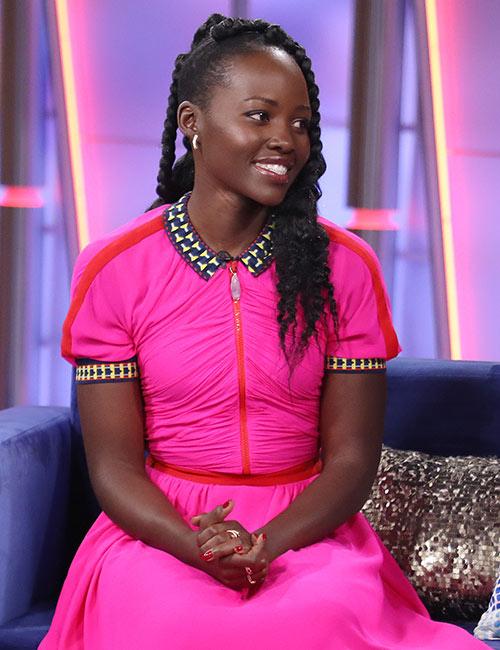 The Oscar-winning Kenyan-Mexican actress began her Hollywood career as a production assistant. Her performance in her first feature film '12 Years A Slave' won her the Academy Award for Best Supporting Actress, making her the sixth black woman to have won an Oscar for the category. In 2014, the lovely chocolate-skin girl was named "The Most Beautiful Woman" by People and "Woman of the Year" by Glamour.
17. Chimamanda Ngozi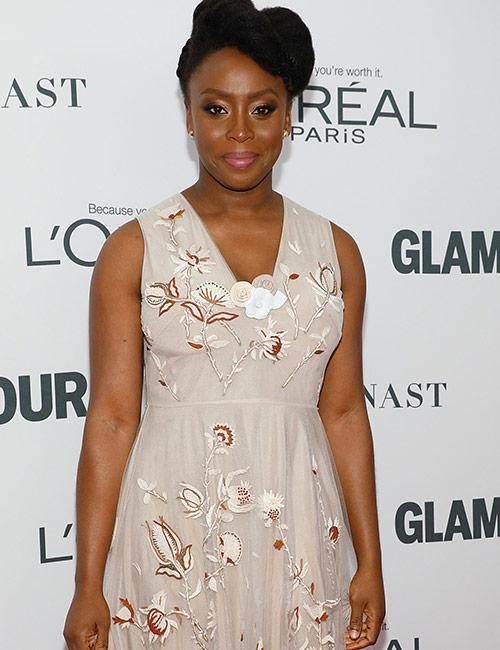 This talented Nigerian writer has written novels, short stories, and non-fiction. 'Americanah', 'We Should All Be Feminists' and 'The Thing Around Your Neck' are some of her popular books among others. She was described in the Times Literary Supplement as "The most prominent of a procession of critically acclaimed young anglophone authors succeeding in attracting a new generation of readers to African literature". She also holds a Masters degree in African studies from Yale.
16. Rosario Dawson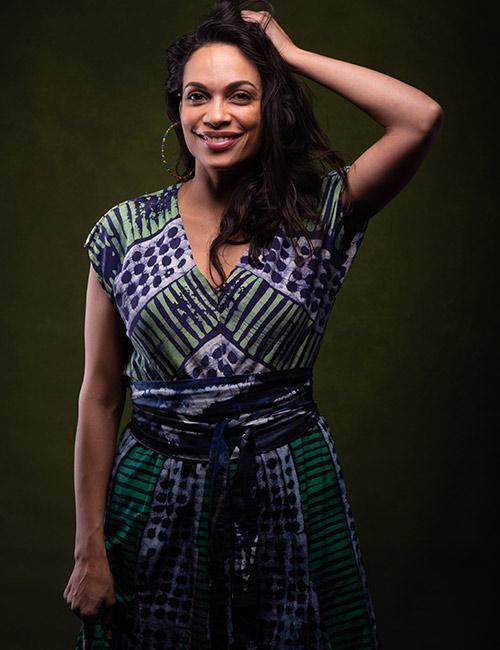 Rosario Dawson goes beyond being just hot – she's scorching! The resourceful actress, singer, comic book writer, producer and political activist made her on-screen debut in the 1995 teenage drama 'Kids'. She has appeared in movies like Sin City, Rent, Percy Jackson and 25th Hour among others. Off-camera, this beauty is active in social, political and environmental causes and she's also involved with such charities, campaigns, and organizations. In 2014, she was on the list of AskMen's 99 Most Desirable Women.
15. Tyra Banks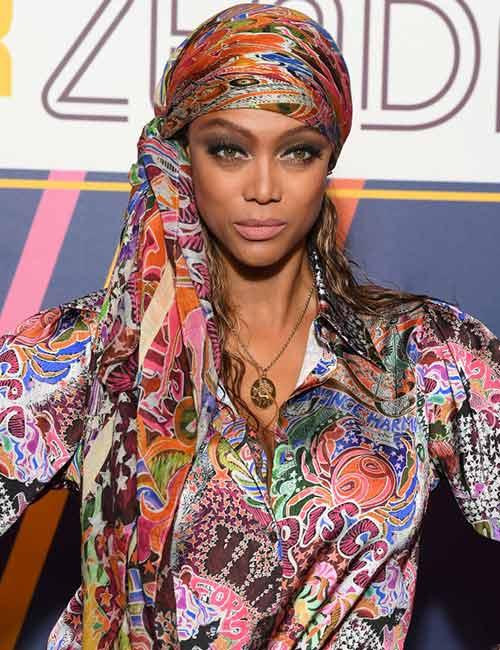 You must have seen the fierce Tyra Banks hosting America's Top Model. The swanky Miss Banks is one of the original Angels of Victoria's Secret. She has come a long way as a "media mogul" – an actress, model, a TV host, producer and entrepreneur in Hollywood and the fashion industry to become one of the most successful black women in the world. She was the first African-American woman to be on the cover of GQ and Sports Illustrated Swimsuit Issue.
[ Read: Top 10 Female Celebrity Tattoo Designs ]
14. Naomi Campbell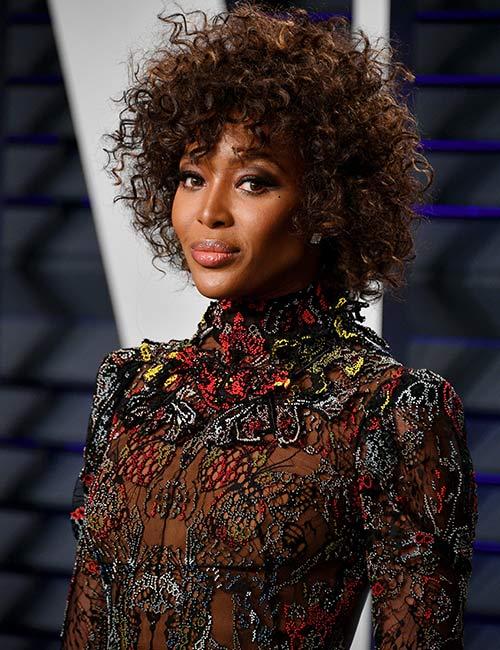 This fabulous English model and actress got her first break at the age of 15! She went on to establish herself among the top three most in-demand and recognized models of the late 1980s and the 1990s. She was one of the six models of her generation to be declared "supermodels" by the fashion industry – so that made her one of the 'original' supermodels of the industry. She has graced the cover of over 500 different magazines. She was also the first black model to appear in TIME magazine. Even at 47, Naomi Campbell has the most amazing physique and manages to look nothing less than a Goddess.
13. Gabrielle Union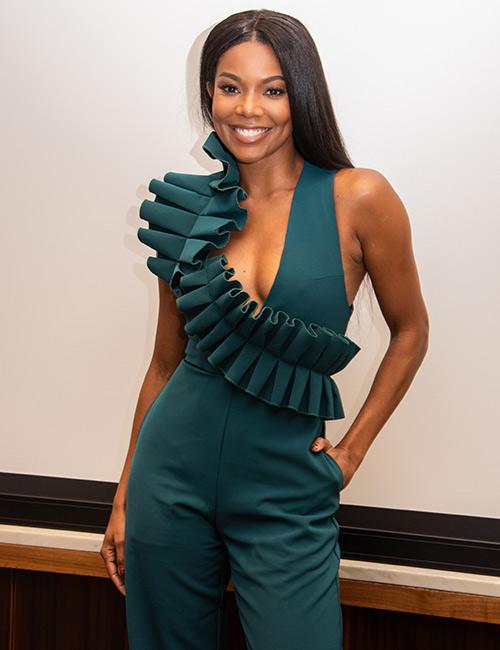 Gabrielle Monique Union began her acting career in 1990 and ever since, she has remained very successful. The stunning beauty is known for her charming signature smile, and we can't stop admiring her luscious curves. Her most popular films include – 'Isis in Bring it On', 'Think Like A Man', 'Bad Boys II' and 'Top Five' among others. She is an advocate for survivors of assault and she does charity work both nationally and in her local community.
12. Ciara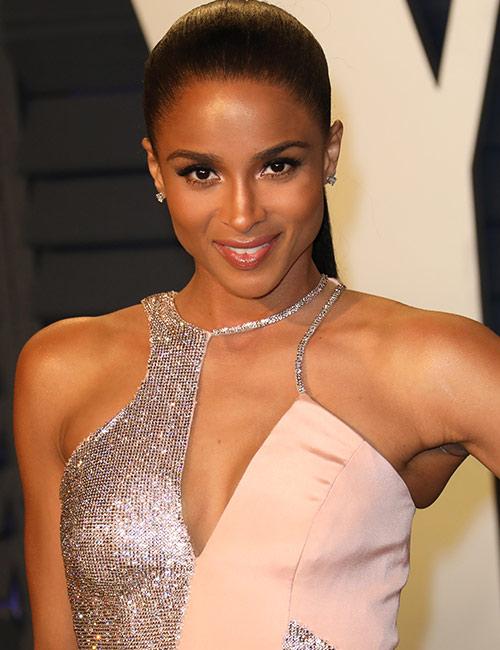 Ciara Princess Harris or known popularly as 'Ciara' began her singing career on a sensational note with her triple platinum album "Goodies". She has sold over 23 million records worldwide. Among her various awards and accolades, she has won three MTV Music Video Awards, three BET Awards and also a Grammy! She also made it to the 2011 Maxim's List of Hot 100 and she is regarded as one of the sexiest black women in the music industry.
11. Janelle Monae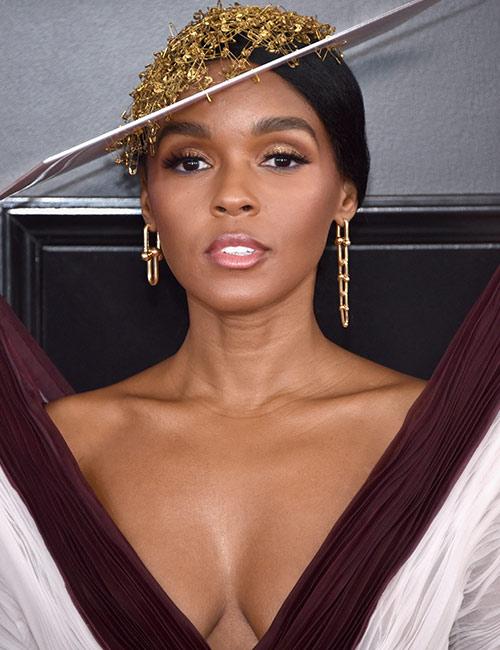 Janelle Monae is a breath of fresh air. She is a throwback to the classic retro style usually with her tuxedo pants with white button-down shirts and bow-ties. She is one of R&B's most energized performers. The very talented artist has garnered six Grammy nominations. She has also played prominent roles in two feature films – 'Hidden Figures' and 'Moonlight' (both of which were Academy Award nominated) for which she received extensive appreciation and praise.
10. Kerry Washington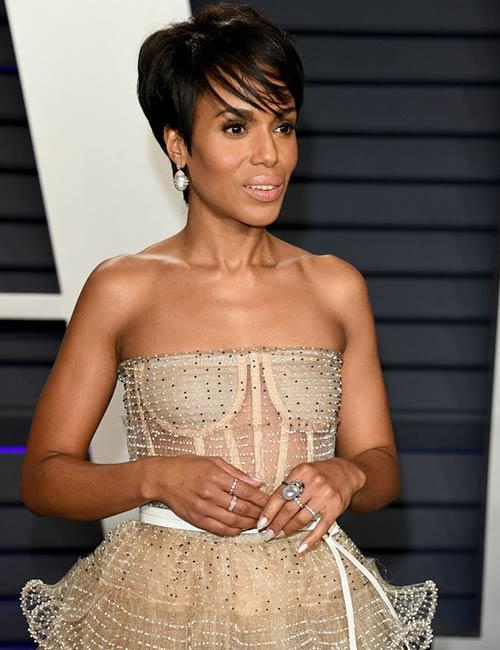 The gorgeous 'Scandal' actress has also graced the silver screen in movies like 'Django Unchained', 'The Last King of Scotland' and 'Save the Last Dance' among her other prominent films. She has also had a reoccurring role on the TV show 'Boston Legal'. Time Magazine has also included her in the 'Time 100' list of 2014. As Olivia Pope in 'Scandal', she was the first black lead actress on a network drama in 40 years.
[ Read: 30 Most Beautiful Women In India ]
9. Meagan Good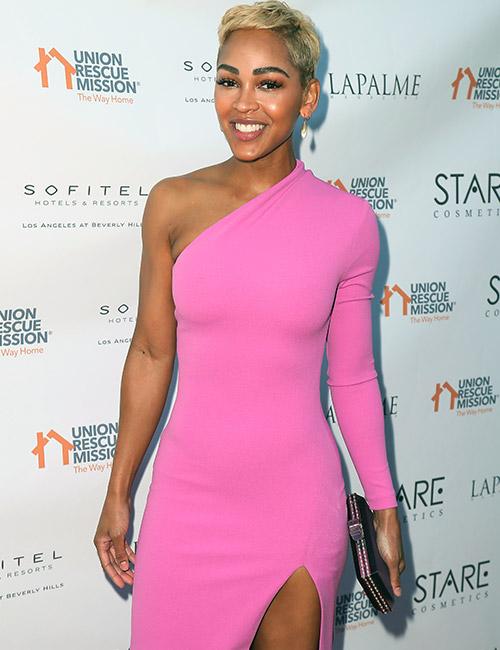 She is considered to be among the most attractive black women in the industry. People Magazine included Meagan Good in 2016's PEOPLE's Most Beautiful List at No. 6. And we don't disagree! The American actress began her career at the age of four and has appeared in a number of TV shows, films and music videos. Currently, this beauty is starring in the TV series "Californication".
8. Halle Berry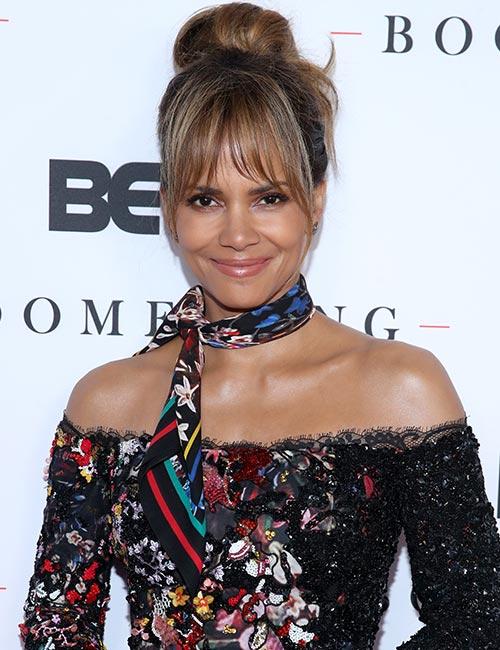 The heartthrob of millions all over – Halle Berry is the only black actress to have won an Academy Award in the Best Actress category, as of 2017. She was one of the highest paid actresses in Hollywood in the 2000s. A combination of beauty and talent, the actor, has also been a spokesperson for Revlon. She has been a part of different lists such as Maxim's Hot 100, and she was voted as the sexiest woman alive by Glamour magazine more than once. Even at 51, she does not fail to impress us!
7. Cassie
Cassie Ventura has the smile of an angel. Doesn't she? She started off her career at a young age as a model and dancer and later moved on to singing. She made her acting debut in Step Up 2: The Streets. She is known for her impeccable style and is an icon for many with her edgy, feminine and also sophisticated sense of fashion. This stunner modeled for Calvin Klein and has been featured in magazines like GQ and Bust. She was also the face of the famous British fashion brand ASOS.
6. Alicia Keys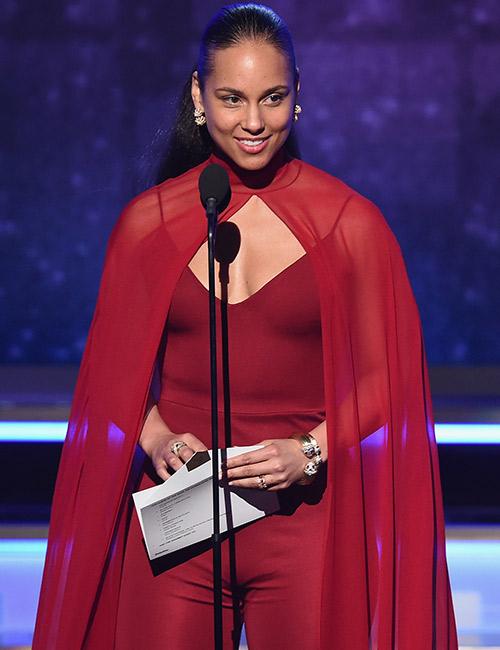 This marvelous being is a 15-time Grammy Award-winning singer, songwriter, a producer, an actress and also a NY Times best-selling author – Is there anything that Alicia Keys can't do? Well, that seems unlikely. She is known for her natural gorgeousness, and with a #NoMakeup campaign on Twitter, she recently launched a makeup-free campaign stating that a woman's individuality is lost behind those foundations and mascaras. Overall, this beautiful woman has achieved extraordinary milestones, leaving her mark on the planet.
5. Zoe Kravitz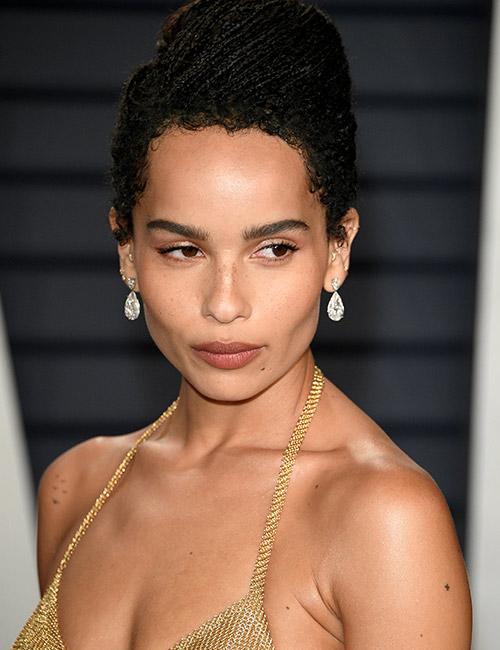 This beauty is the daughter of the famous musician Lenny Kravitz and Lisa Bonet. She has appeared in movies like X-Men: First Class, No Reservations and The Brave One. Recently, she starred in the critically acclaimed HBO series called 'Big Little Lies'. She also has her own band called 'Lolawolf'. She was included in Maxim's Hot 100 List of 2017.
4. Zoe Saldana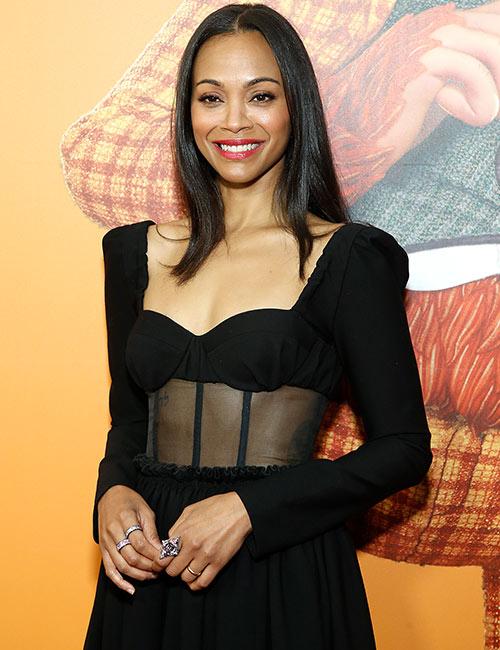 One of the hottest black women in the show business is Zoe Saldana! She made a breakthrough in 'Center Stage' as a dancer. She also played a part in 'Pirates of the Caribbean', 'Star Trek' and 'Avatar'. She takes immense pride in her African ancestry and has said that no amount of backlash can make her honor and respect her black community any less because that's who she is. She has also made it to Maxim's Hot 100 list more than once.
[ Read: Top 10 Hollywood Actresses Without Makeup ]
3. Rihanna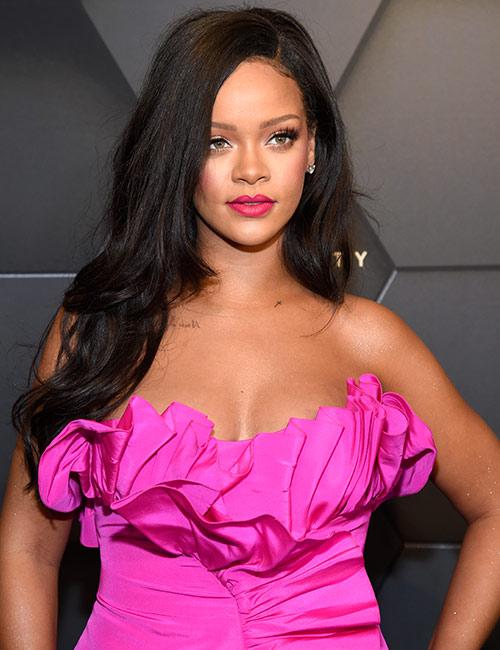 The youngest solo artist in History to put out 11 number one singles on the Billboard Hot 100 is none other than Rihanna! Besides being a multi-platinum selling, multiple award-winning rockstar, she is also one of the hottest women in the entertainment industry today. Forbes ranked her as the fourth most powerful celebrity of 2012 and she indeed is nothing less than powerful! She was also named one of Time Magazine's 100 Most Influential People in the World. At just 29, this fabulous woman has gained enough popularity to last her several lifetimes.
2. Nathalie Emmanuel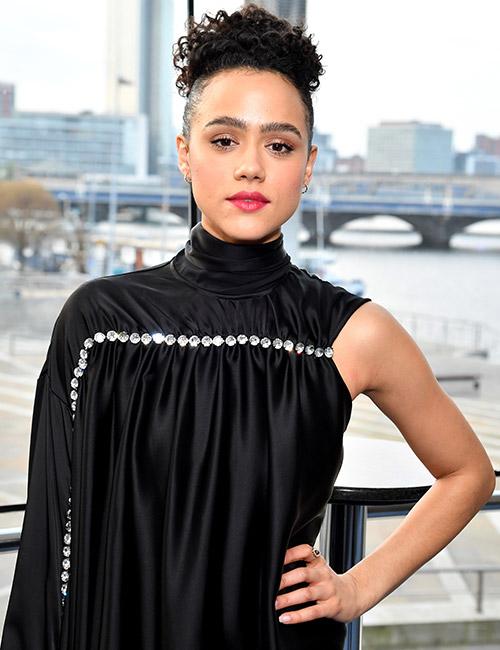 This divine beauty plays 'Missandei' in the HBO fantasy series 'Game of Thrones'. She has gained worldwide recognition and fame through her role in the show. She has also appeared in Fast 7, The Fate of the Furious and The Maze Runner among others. The fresh-faced actress with her beautiful natural curls and the most appealing physique, inevidently stands out in the crowd and has gained a fan-base from all around the globe.
1. Beyonce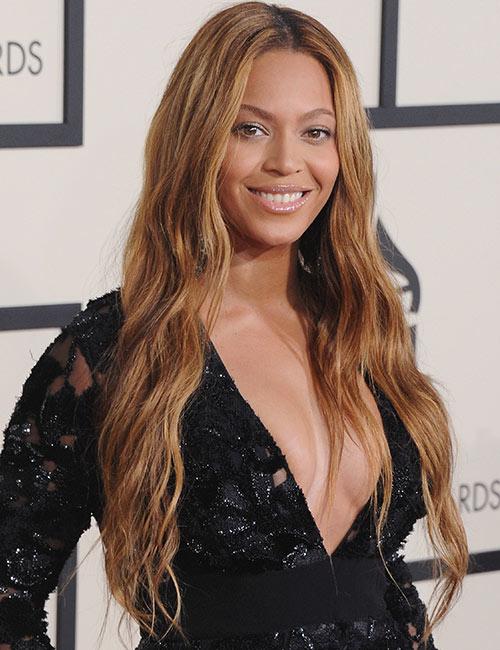 At number 1 on the list is the Queen B herself – truly a woman who needs no introduction but she was voted as the hottest woman of the 21st century by GQ (among all the other accolades she has received). Besides her beautiful body and the whole desirability factor, she has come to be a pop-culture icon and the most powerful pop star in the music industry. She is a media mogul, a musician, a brand, a feminist and a mother – basically a "fantasy woman" with her art appealing to millions all around the globe.
So that was the list of 35 most beautiful black women in the world. Of course, there are so many more gorgeous black women out there, but then our list would've been endless. Do you have any favorites? If you do, please leave their names down in the comments section below. These powerful women are more than just "pretty faces", they have faced endless challenges and struggles in a world where racism towards the black community is very real, even today (sadly). It's time for society to widen its idea of "beauty" with these stunning women.

Recommended Articles:
Stylecraze will send you personalised content 1 per day
Stylecraze will send you personalised content 1 per day
Was this article helpful?
Related
The following two tabs change content below.
LATEST ARTICLES
Was this article helpful?
Follow us
Our Sister Sites
Copyright © 2011 – 2022 Incnut Digital. All rights reserved.
StyleCraze provides content of general nature that is designed for informational purposes only. The content is not intended to be a substitute for professional medical advice, diagnosis, or treatment. Click here for additional information .
Dec 26, 2017 – Black women are insanely beautiful with some of the most stunningly captivating features. From Selita Ebanks to Rihanna, here is a list of 35 …
29 thg 12, 2021 … List Of The Most Beautiful Black Women (2022) … She is a Barbarian singer, businesswoman, and actress. She is beautiful, talented, …
Well, i have a lot of celebrity crushes, some of them the most beautiful women in the world (e.g. 35 most beautiful black female celebrities ].
Lipstick is a cosmetic that applies color, texture, and protection to the lips. … Only upper-class women and male actors wore makeup. Throughout most of the 19th century, the obvious use of cosmetics was not considered acceptable in …
A bra, short for brassiere or brassière is a form-fitting undergarment typically designed to support or cover a woman's breasts. Bras are designed for a …
Results 1 – 48 of 40000+ … SIBY PU Leather Makeup Organizer Storage Vanity Box Cosmetic Storage Box Travel Makeup Case for Women , Black(Not Included Accessory).
24 thg 12, 2021 … Vireo is the name of a beautiful green bird that sings melodious songs. The name is unusual, but very pleasant. 35. Gawain: Gawain is a Welsh …
4 ngày trước … American actress Dorothy Dandridge proved to be one of Hollywood's most timeless beauties. 02. First Lady Michelle Obama.
Kerry Washington is a popular actress and producer who became famous for her role as Olivia Pope in the ABC drama Scandal. The actress has also …
30 thg 11, 2021 … Black women are insanely beautiful with some of the most stunningly captivating features. From Selita Ebanks to Rihanna, here is a list of …
3 thg 12, 2021 … She is married to British comedian Sacha Baron Cohen. [ Read: 35 Most Beautiful Black Female Celebrities ]. 10. Lady Gaga.